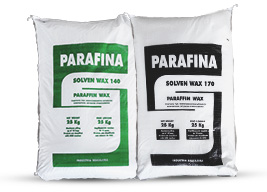 Soft Paraffin Specification and Safety Information
DESCRIPTION
It is essentially composed of saturated hydrocarbons and high oil contents. It has excellent chemical stability.
PROPERTIES
See the tests, specification, Solven method and reference method in the PDF file available for download.
APPLICATION / MAIN USES
Used in products for waterproofing, composition of waxes in general, manufacture of greases and lubricants and in various applications in the chemical industry.
PACKAGING, STORAGE AND HANDLING
It must be stored in a cool, dry place, protected from the weather. The shelf life of this product is 36 months from the date of manufacture, under the recommended storage conditions and/or original packaging.
CLASSIFICATION FOR TRANSPORT
This product is not classified as dangerous according to the transport legislation in force.
ADOPTED CLASSIFICATION SYSTEM
Standard ABNT-NBR 14725-Part 2: 2009. Adoption of the Globally Harmonized System for the Classification and Labeling of Chemicals, UN.
STORAGE
P410 – Store away from sunlight.
PHYSICAL AND CHEMICAL PROPERTIES
Aspect:
Physical state: Solid;
Form: Solid/Paste;
Color: Yellowish.
Odor: Low odor, but characteristic of hydrocarbons.
Odor threshold: Not available.
pH: Not Applicable.
Melting point/freezing point: Not available.
Initial boiling point and boiling temperature range: Not available.
Flash point: > 140°C (ASTM D-92).
Evaporation rate: Not available.
Flammability: Not Available.
Lower/Upper Flammability or Explosive Limit: Not Applicable.
Vapor Pressure: Not Available.
Vapor Density: Not Available.
Relative density: 0.810 to 0.830 (water as standard).
Solubilities: – Not available.
Partition coefficient – ​​n-octanol/water: Not available.
Auto-ignition temperature: Not available.
Decomposition temperature: Not available.
Viscosity: Not Available.
STABILITY AND REACTIVITY
Reactivity: Not Available.
Chemical stability: Stable under normal conditions of use. It does not undergo polymerization.
Possibility of hazardous reaction: Not available.
Conditions to Avoid: Heat, heat sources, incompatible materials.
Incompatible materials: Strong oxidizing agents such as peroxide, chlorates and chromic acid.
Hazardous decomposition products: On combustion, the formation of toxic decomposition products such as carbon monoxide and carbon dioxide cannot be excluded.
TOXICOLOGICAL INFORMATION
Acute toxicity:
Skin Corrosion/Irritation: The product is inert in a solid state. When melted (after heating) it can cause burns with pain and redness in the affected area;
Serious eye damage/eye irritation: May cause mild irritation on contact with eyes;
Respiratory or skin sensitization: Inhalation of vapors causes respiratory and mucosal irritations. In high concentration its vapors cause irritation and narcotic effects on the central nervous system;
Germ cell mutagenicity: Insufficient information for classification;
Carcinogenicity: This product is not classified as a carcinogen;
Reproductive toxicity: Insufficient information for classification;
Specific target organ toxicity – single exposure: Insufficient information for classification;
Specific target organ toxicity – repeated exposure: Insufficient information for classification;
Aspiration hazard: Product vapor can enter the lungs and cause damage such as: Chemical pneumonia.
ECOLOGICAL INFORMATION
Ecotoxicity: The product is not expected to present a hazard to aquatic organisms.
Persistence and Degradability: Low degradability and high persistence is expected.
Bioaccumulative Potential: Not Available.
Ground mobility: Not available.
Other Adverse Effects: Not Available.
CONSIDERATIONS ON FINAL DESTINATION
Recommended disposal methods: This product can be reprocessed, incinerated in suitable facilities or sent for co-processing. Check in your Municipality and/or in your State, the applicable legislation on final disposal.
Used packaging: When the packaging is empty, contaminated with the product, it can be sent to packaging recycling companies, authorized by the environmental agency.
Downloads
MORE INFORMATION ON Soft Paraffin
Need more information? Send us a message and we'll get in touch
All information, recommendations and suggestions shown in the specification indicate that use is based on reliable tests and data. However, it is the sole responsibility of the user to determine the use for the product described herein. Since actual use by others is beyond our control, no express or implied warranty is made by SOLVEN SOLVENTES E QUÍMICOS LTDA. Thus, for the purposes of using the results to be obtained, we do not assume the misuse, by others, of this product. Questions and information please
contact us
.