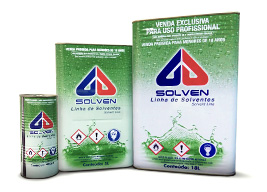 Solvenpar L Specification and Safety Information
DESCRIPTION
It is a colorless, high purity, hydrogenated and odorless liquid. The solvent has low reactivity and toxicity. Low levels of olefins, volatile organic and aromatic compounds, characterizing a greater chemical stability compared to aliphatic solvents. Composed mainly of isoparaffinic hydrocarbons.
PROPERTIES
See the tests, specification, Solven method and reference method in the PDF file available for download.
APPLICATION / MAIN USES
It is used in chemical processes such as degreasers, domestic and industrial detergents, insecticide formulations, printing inks, automotive products, water treatment chemicals. It is used as a fluid for the formulation of Protective Oil.
PACKAGING, STORAGE AND HANDLING
Product must be kept away from sources of ignition, in a cool, dry place, protected from bad weather. The shelf life of this product is 36 months from the date of manufacture, under the recommended conditions of storage and/or original packaging.
CLASSIFICATION FOR TRANSPORT
Product not classified according to current transport legislation.
ADOPTED CLASSIFICATION SYSTEM
Standard ABNT-NBR 14725-Part 2: 2009. Adoption of the Globally Harmonized System for the Classification and Labeling of Chemicals, UN.
STORAGE
P402+P403+P404 Store in a dry place. Store in a well-ventilated place. Store in a closed container.
PHYSICAL AND CHEMICAL PROPERTIES
Aspect:
Physical state: Liquid;
Appearance: Clear;
Color: Colorless.
Odor: Low odor, but characteristic of hydrocarbons.
Odor threshold: Not Applied.
pH: Not Applied.
Melting point/freezing point: – 49 °C.
Initial boiling point and boiling temperature range: 179 – 213 °C.
Flash point: min. +61 °C (Closed Vessel).
Evaporation rate: 0.03 (Butyl Acetate = 1).
Flammability: Not Available.
Lower/upper limit of flammability or explosiveness: Upper (LSE): 5.5%, Lower (LIE): 0.6%.
Vapor pressure: 0.072 kPa (Ambient temperature).
Vapor density: 4.5 (Air = 1).
Relative density: 0.750 – 0.800 (water as standard).
Solubilities: Insoluble in water.
Partition coefficient – ​​n-octanol/water: Not Applicable.
Auto-ignition temperature: > 220°C (ASTM E659-78).
Decomposition temperature: Not available.
Viscosity: On average 1.34 cSt at 40 °C (Kinematics).
STABILITY AND REACTIVITY
Reactivity: Not Available.
Chemical stability: Stable under normal conditions of use.
Possibility of Hazardous Reaction: Hazardous reactions do not occur under normal conditions of storage and use.
Conditions to Avoid: Heat, ignition sources, incompatible materials.
Incompatible materials: Oxidizing materials.
Hazardous decomposition products: On combustion, the formation of toxic decomposition products cannot be excluded.
TOXICOLOGICAL INFORMATION
Acute toxicity:
Skin Corrosion/Irritation: Not available;
Respiratory or skin sensitization: Not available;
Germ cell mutagenicity: Not available;
Carcinogenicity: Not Available;
Reproductive toxicity: Not available;
Specific target organ toxicity – repeated exposure: Not Available;
Potential Acute Health Effects: Eye Contact – No known significant effects or critical hazards. Inhalation – No known significant effects or critical hazards. Skin Contact – Degreaser for skin. May cause skin irritation and drying. Ingestion – May be fatal if swallowed and enters airways;
Symptoms related to the physical, chemical and toxicological characteristics: Eye contact – No specific data. Inhalation – No specific data. Skin Contact – Adverse symptoms may include the following: Irritation, Dry skin. Ingestion: Adverse symptoms may include the following: Nausea and vomiting.
ECOLOGICAL INFORMATION
Persistence and Degradability: Not available.
Bioaccumulative Potential: Not Available.
Ground mobility: Not available.
Other Adverse Effects: Not Applicable.
CONSIDERATIONS ON FINAL DESTINATION
Recommended disposal methods: This product can be reprocessed, incinerated in suitable facilities or sent for co-processing. Check in your Municipality and/or in your State, the applicable legislation on final disposal.
Used packaging: When the container is empty, contaminated with the product, it can be sent to drum recycling companies authorized by the environmental agency.
Downloads
MORE INFORMATION ON Solvenpar L
Need more information? Send us a message and we'll get in touch
All information, recommendations and suggestions shown in the specification indicate that use is based on reliable tests and data. However, it is the sole responsibility of the user to determine the use for the product described herein. Since actual use by others is beyond our control, no express or implied warranty is made by SOLVEN SOLVENTES E QUÍMICOS LTDA. Thus, for the purposes of using the results to be obtained, we do not assume the misuse, by others, of this product. Questions and information please
contact us
.