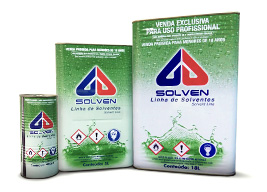 Solven Eco Paper 5000 Specification and Safety Information
DESCRIPTION
The Solven Eco Paper line are emulsifying formulations based on severely hydrogenated aliphatic solvents, miscible in water, with good chemical stability and non-flammable.
Used during the recycling and decontamination process of packaging scraps made of cardboard and paper, these products provide greater mechanical resistance, protecting the equipment for greater cleaning and spacing, in the maintenance times and useful life of parts and screens.
It is a biodegradable product according to the criteria of the American OECD (Organization for Economic Cooperation and Development).
SOLVEN ECO PAPER 3000 PROPERTIES
See the tests, specification, Solven method and reference method in the PDF file available for download.
APPLICATION / MAIN USES
Its purpose is to decontaminate scraps containing adhesives (PVA, acrylics, vinyl-acrylics, EVA), graphic inks, varnishes and other substances such as RU (moisture resistance products), pitch, tar, paraffin emulsions, among others.
The product loosens the above items, neutralizing the tackifying action of the adhesives, increasing the quality of paper formation and preventing the formation of pitch throughout the process. SOLVEN ECO PAPER 5000 also protects the surface of the equipment, promoting system cleaning, maintenance spacing and screen replacement.
The ideal dosage is 3 liters of product for every 1000 kg of wet mass.
Used in a closed paper manufacturing process, the product has increased effectiveness due to the return of the water system.
PACKAGING, STORAGE AND HANDLING
The product must be kept away from sources of ignition, in a cool, dry place, protected from bad weather. The supply is made through drums and containers. The shelf life of this product is 24 months from the date of manufacture, under the recommended storage conditions and/or original packaging.
CLASSIFICATION FOR TRANSPORT
Product is not classified as dangerous according to current legislation.
PHYSICAL AND CHEMICAL PROPERTIES
Appearance, environment: Opaque liquid.
Density at 20/4ºC, g/cm³: 0.0.875 – 0.900
pH at 25°C: 5.0 – 7.0.
Water solubility: Emulsifiable.
TOXICOLOGICAL INFORMATION
Prolonged skin contact, inhalation and ingestion should be avoided.
ECOLOGICAL INFORMATION
Ecotoxicity: Not Available.
Persistence and Degradability: Readily Biodegradable – 80% after 28 days (Method: OECD 301F).
Bioaccumulative Potential: Not Available.
Ground mobility: Not available.
Other Adverse Effects: Not Applicable.
CONSIDERATIONS ON FINAL DESTINATION
Recommended disposal methods: This product can be reprocessed, incinerated in suitable facilities or sent for co-processing. Check in your Municipality and/or in your State, the applicable legislation on final disposal.
Used packaging: When the container is empty, contaminated with the product, it can be sent to drum recycling companies authorized by the environmental agency.
Downloads
MORE INFORMATION ON Solven Eco Paper 5000
Need more information? Send us a message and we'll get in touch
All information, recommendations and suggestions shown in the specification indicate that use is based on reliable tests and data. However, it is the sole responsibility of the user to determine the use for the product described herein. Since actual use by others is beyond our control, no express or implied warranty is made by SOLVEN SOLVENTES E QUÍMICOS LTDA. Thus, for the purposes of using the results to be obtained, we do not assume the misuse, by others, of this product. Questions and information please
contact us
.