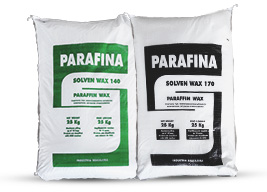 Anti-ozonant Wax Specification and Safety Information
DESCRIPTION
PARABRAX OZONE 32 is essentially composed of saturated hydrocarbons, low in polyaromatic hydrocarbons. It has excellent chemical stability.
PROPERTIES
See the tests, specification, Solven method and reference method in the PDF file available for download.
APPLICATION / MAIN USES
PARABRAX OZONE 32 is used in the waterproofing of papers and canvas, composition of waxes and release agents in general, rubber additives and the chemical industry.
PACKAGING, STORAGE AND HANDLING
It must be stored in a cool, dry place, protected from light. The supply is made in bags containing 25 kg, presented in lentils. The shelf life of this product is 36 months from the date of manufacture, under the recommended storage conditions and/or original packaging.
CLASSIFICATION FOR TRANSPORT
This product is not classified as hazardous according to current legislation.
STORAGE
Store in boxes. Keep preferably in places free from sunlight. Provide good room ventilation at room temperature and atmospheric pressure. Keep in a dry environment, away from heat, oxidants and strong sources of ignition.
PHYSICAL AND CHEMICAL PROPERTIES
Aspect:
Physical state: Solid at room temperature;
Color: Milky White.
Smell: Characteristic.
pH: Not applicable.
Melting Point: 63 to 69 ºC (ASTM Method D-87).
Flash Point: 200 +/-4 ºC (Open Vessel).
Density: 0.760 at 80°C.
Solubility in water: Insoluble.
STABILITY AND REACTIVITY
Stability: Stable.
Hazardous Reactions: Keep away from strong chemical oxidizers (eg peroxides, nitric acid, concentrated sulfuric acid), halogenated hydrocarbons, alkali hydroxides, halogens, ethane amines, alkali metals, nitrous compounds. Reacts with many plastic materials.
Conditions to avoid: Sources of heat and ignition.
TOXICOLOGICAL INFORMATION
Acute Toxicity: In high concentrations of smoke, it can cause nausea, headache, dizziness and anesthetic effects.
Inhalation: When inhaled, fumes cause mucosal irritation. In high concentrations, inhaled vapors have a narcotic and anesthetic effect, and can cause headache, dizziness, nausea, drowsiness, malaise and loss of consciousness. In solid state it is inert;
Skin Contact: Associated with other chemical components, it may cause irritation due to hypersensitivity;
Eye Contact: Negligible;
Ingestion: No records found;
Specific effects: As it is a solid product, other effects, other than the skin, only occur in cases of production of vapors due to abnormal heating. In liquid state, avoid contact with eyes and skin, due to risk of burns.
ECOLOGICAL INFORMATION
Mobility: Non-Volatile.
Environmental impact: In normal state it does not cause damage to the atmosphere.
Ecotoxicity: Effects on aquatic organisms – given its chemical inertness characteristics, low solubility, it is not liable to harm life. Effects on soil organisms – not likely to cause soil damage.
CONSIDERATIONS ON FINAL DESTINATION
Treatment and disposal methods:
Product: the treatment and disposal of the product must be technically evaluated on a case-by-case basis;
Product waste: Dispose of properly according to local legislation. Incineration or kiln processing are suitable methods for disposal;
Contaminated packaging: empty packaging must be cleaned before recycling or final disposal at an authorized facility. Do not reuse empty packaging.
Downloads
MORE INFORMATION ON Anti-ozonant Wax
Need more information? Send us a message and we'll get in touch
All information, recommendations and suggestions shown in the specification indicate that use is based on reliable tests and data. However, it is the sole responsibility of the user to determine the use for the product described herein. Since actual use by others is beyond our control, no express or implied warranty is made by SOLVEN SOLVENTES E QUÍMICOS LTDA. Thus, for the purposes of using the results to be obtained, we do not assume the misuse, by others, of this product. Questions and information please
contact us
.